"A celebration without cake is really just a meeting," as stated rightly, and this rings true. Birthdays, weddings, farewells, and any other type of celebration would be meaningless without a cake. On the other hand, social media networks have played an increasingly important role in the effectiveness of marketing efforts for bakeries of all shapes and sizes in today's connected world. Social media platforms may be incredibly beneficial in terms of attracting new customers, engaging with existing ones, establishing brand loyalty, connecting with vendors, and much more.
"Successful social media marketing is like baking – you must understand the basic concept, have the right baking instruments, know the right ingredients, and have the confidence to follow a recipe with a sprinkle of creativity."
And, given the global cultural shift caused by the COVID-19 outbreak, social networking is more important than ever for keeping connections with consumers, offering knowledgeable, helpful service, and selling your bakery.
If your bakery brand is just getting started with social media, the sheer number of channels available, all of the advertising opportunities, and the effort required to monitor profiles may seem daunting.
This article is a go-to resource for brands eager to get started on social media, establish an effective online strategy, or spice up their present social media to boost revenue and brand recognition. We'll cover the following areas in this social media guide for bakeries
Why is Social Media essential for Bakery shops?
If you are not active on social media, you are missing out on a significant client base. Customers can be easily acquired through social media.
According to a study, 61% of individuals learn about cake shops, bakeries, and other food outlets using social media. Only word of mouth or peer recommendation comes close.
In recent years, social media marketing strategies have become an integral aspect of the marketing plan for all bakery businesses and restaurants, large and small. So, how do you promote your bakery on social media?
Social Media Marketing Strategy for Bakery in 2023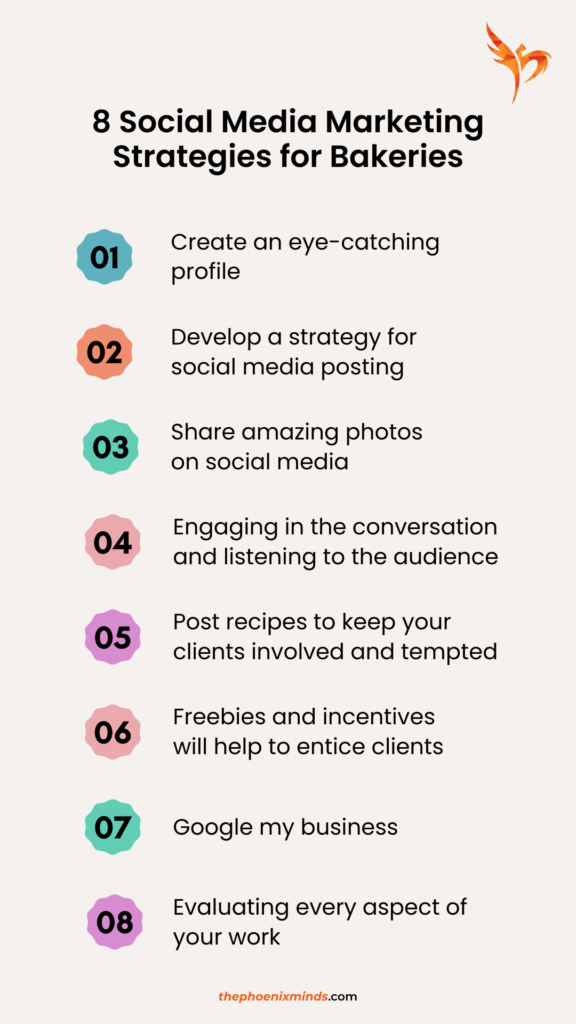 1. Create an eye-catching profile
In fact, your profile is the first thing people see when they search for your company on social media. As a result, make sure to develop a flawless profile with complete, exact, and up-to-date information. Include information such as your location, business hours, and contact information. You can also provide information such as your website, discounts, or promotions, among other things.
While Instagram and Twitter only allow for a limited bio portion, Facebook allows you to include information such as opening hours, address, message options, and preferred times to visit.
2. Develop a strategy for social media posting
Nothing is worse than a customer visiting your social media pages and discovering that you haven't posted anything in months. Because newsfeeds move quickly, you must be visually proactive if you want to stay in your customer's minds.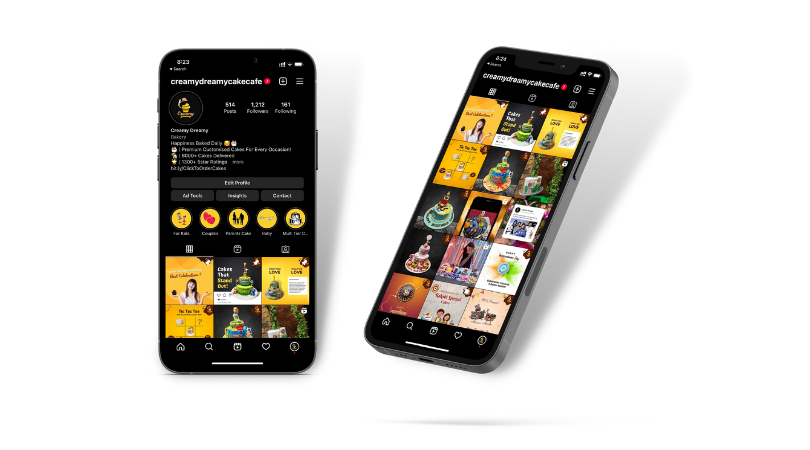 Just as your company bakes fresh cakes every day, make sure you and your staff have a maintenance schedule in place so that you may be reminded of your presence. Do you want to enhance your social media content creation game? Let's connect to plan out a social media strategy for your bakery.
3. Share amazing photographs on social media.
Customers will come through the door if you post images on a frequent basis, reminding them to order those new cakes. However, keep in mind that the quality of your photos and videos reflects the quality of your products to online customers, so make sure your photos are top-notch.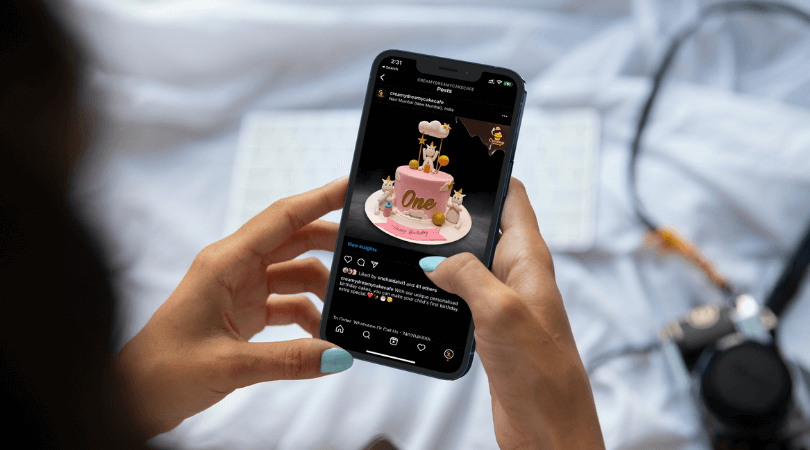 As a result, you should never agree on the quality of the scenes you employ. You can enhance their value by using design tools and editors. However, make certain that you are not overdoing it. Additionally, images should be the appropriate size for the best appearance on various social media networks.
If you are planning to create content & manage your social media on your own, you can use the tools listed below:
4. Engaging in the conversation and listening to the audience
In reality, social media is an excellent platform for learning from your customers. Have you ever wondered if your latest cupcake or bread is a hit with your customers? Or are they hunting for a new cake flavor? Your clients are the lifeblood of your business. Customers that are happy are more likely to return, so strive to make each client interaction memorable. Simply listen in on the conversations and offer questions. In fact, this is a fantastic approach to stirring people's curiosity, creating online communities, and interacting with loyal customers.
5. Post recipes to keep your clients involved and tempted.
Offering recipes that your potential and existing consumers can use is one of the most effective methods to connect with them. The act of writing and sharing novels, as well as good recipes, not only entertains visitors but also fosters a sense of belonging and trust. Quality information about the intricacies of baking and related topics will keep your audience amused while also piquing their interest in your company. Giving specific instructions, such as the best ingredients to use and how to bake delectable treats, guarantees that your material is more useful. This also improves your chances of having a higher search engine ranking. Post recipes to keep customers engaged and enticed.
P.S: As a budding cake business owner, you must empower your team to achieve your cake decorating goals. Checkout this awesome collection of online cake decorating tutorials - an accredited program of certified learning of about 1470 full Cake Tutorials on CakeFlix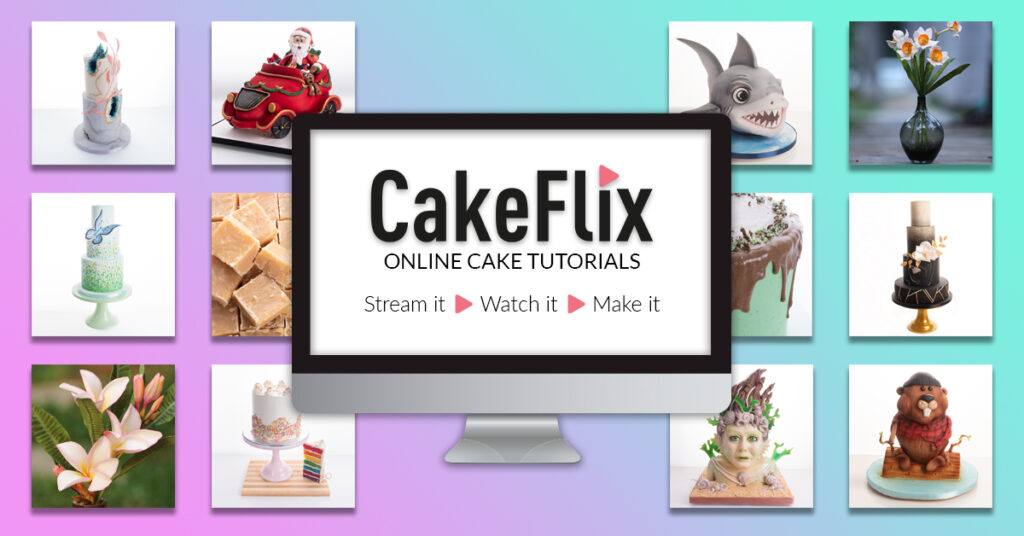 6. Freebies and incentives will help to entice clients.
Profit and expenses are essential in business, but giving things away for free to clients is an excellent approach to capture their attention and trust. In the bakery company, freebies and prizes go a long way toward drawing clients. This is the frosting on the cake that attracts the most attention from the public.
You can offer freebies in a variety of ways, such as free delivery, quickly baked and delivered products, or customized products on demand. This really aids in distinguishing yourself from the competition and gaining your customers' trust.
7. Google my business
When it comes to social media marketing strategies for local businesses like bakeries, Google My Business is absolutely vital. It's a free online service that enables company owners to register their location on Google Maps, allow images of their location to be identified using GPS data, and, most importantly, allow your customers to use Google reviews.
When someone wants to try a new restaurant, the first thing they do is either ask their friends for advice or look it up on Google and read the reviews. A Google My Business listing can assist your store's Google search rankings, or where it appears in a Google search results list.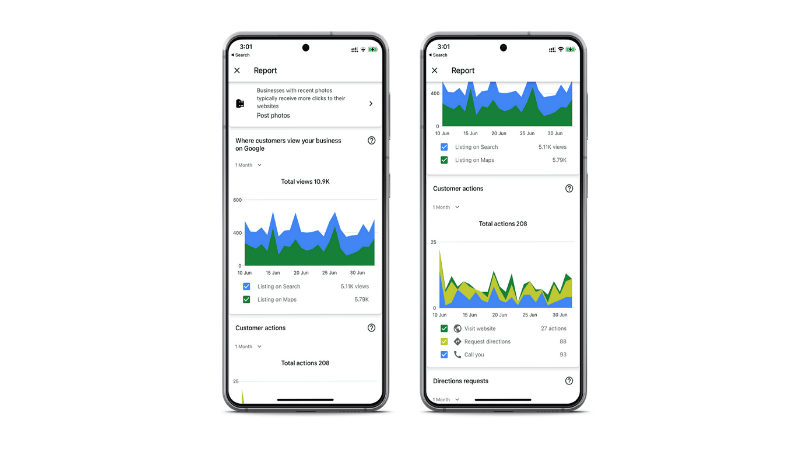 Want To Optimise Your Bakery's Google listing ? Contact Us
8. Evaluating every aspect of your work
Now that you've spent enough time developing content, replying to reviews, and engaging with your audience, it's time to figure out what's working for your bakery!
Without statistics to back it up, all of your efforts to sell your business on social media would be for naught. As a result, it's critical to track your progress on social media and adjust your business's social media strategy accordingly for improved outcomes.
If you're that entrepreneur who wants to invest your time in other aspects of building your brand, you can outsource the social media work to a professional social media marketing agency.
Looking for a Bakery Social Media Marketing Agency in 2023?