The real estate marketing in 2023 is officially online. What used to be an industry that depended on traditional marketing, is now an industry that depends highly on having an online presence. 
To be more precise, we are living in a period where visual communication is the key to make a business successful & hence, it's a must to have a professional graphic designer for real estate agents in 2023 to survive in this competitive market.
Why do you need a professional graphic designer for real estate firm in Mumbai?
Be it online through social media marketing, website, mobile apps, emails, etc.–, or offline – through brochures, billboards, business cards, etc. Graphic design plays a major role in targeting customers and creating a brand name.
A creative real estate graphic design tells prospective sellers and buyers who you are and what you're about with just one glance. The trick is catching people's attention, which means you need to know who your audience is and how to talk to them.
So, if you are a real estate agent looking to grow your real estate business (undoubtedly), you can hire or outsource a professional real estate graphic designer in Mumbai, who can help you improve the branding of your business.
How a Professional Real Estate Graphic Designer can help your firm stand out from the competition?
A professional graphic designer can help you in several different ways. The designer will help you fit everything correctly by designing matters such as real estate flyers, banners, social posts & especially your brand's premium logo.
1. Designing a Premium Real Estate Logo
As they say, The first impression is the last impression. 4 out of 10 customers can be impressed easily if you come up with the right design. A graphic designer can come up with innovative and creative ways to impress clients, starting from your real estate business logo.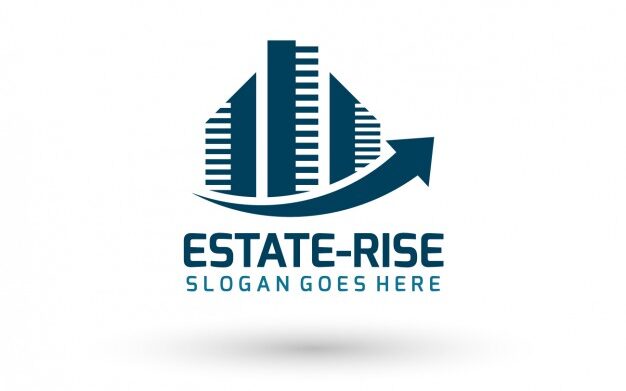 Your logo design is the foundation of success in designing your brand image for your real estate agency. A sample logo design is shown above just for an idea.
Using professional graphic design services for your real estate business is an effective way to achieve your own unique identity.
Your Real estate graphic designer will also help you in making the best use of your business's essence by transforming it into well-made designs for all of your places of presence, such as; website design, business card designs, brochure designs, Advertising designs, etc.
Real estate being a crowded industry lacks in being creative as real estate agents prefer using old traditional approach neglecting the importance of their real estate logo & brand building.
2. Designing real estate flyers & infographics to provide the necessary information.
Real estate buyers always invest only after getting enough information about the property, this makes it very important for your brand to communicate with the ultimate clarity with your audience.
Give them all the important information, in the easiest way to be consumed. One of the most popular and effective ways of sharing business information with your customer is through infographics. A sample flyer design is shown below just for reference purposes.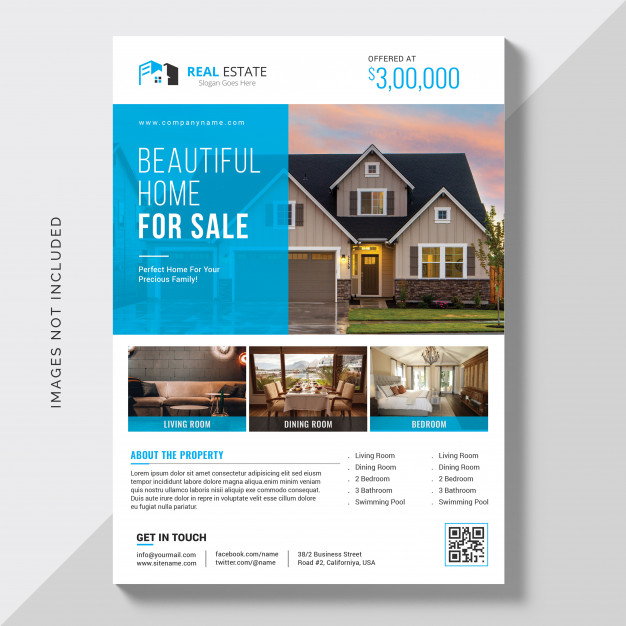 This sort of marketing is quite economic and creates a good amount of traffic. Moreover, the conversion rate of potential clients is much better when you use infographics. The rate of inquiries increases from the information available on the flyer's designs.
You can create awesome infographics to let them know things like:
The different projects in the market and their benefits.
Latest changes and happenings in the real estate sector.
Futuristic possibilities and investment returns.
Real estate market statistics and other such useful information.
Additionally, using infographics to share information with your audience helps to establish authority and credibility for your brand. People start looking at your real estate firm as the industry thought leader.
3. Designing ads for running multiple Ad Campaigns
Real Estate Marketing in 2023 proves to be beneficial when you run multiple Ad campaigns using Facebook ads, Google ads, and test which ads are working.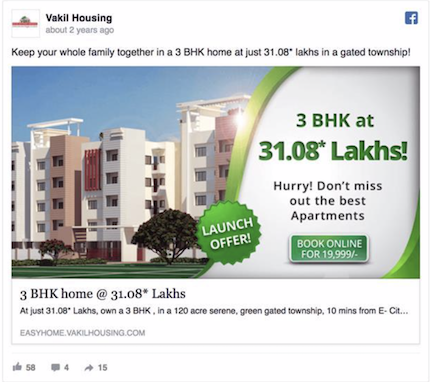 The more campaigns you run the better your audience will get aware of your offerings and real estate opportunities in the market. Once you find what kind of ads are working, you are already ahead of your competition.
Can you design it on your own?
Being a graphic designer is not just about learning a designing tool, you as a real estate agent can think of learning it and start designing, but the final results won't be worth your time invested. Designing is all about being creative, choosing suitable font types, colors, elements, and being able to communicate the message to your audience in the form of imagery without being clumsy but eye-catchy.
So, if you use professional real estate graphic design for your business not only will it help produce higher returns but, also cut down your marketing expenses eventually in the long run.
Needless to say that this factor becomes all the more effective if you outsource graphic design services for real estate firm to a professional agency, such as PhoenixMinds. Simply because we understand the basic nuances of graphic designing for the real estate industry, and we seem to be in the right position to create designs keeping in mind the target audience and the market.
Looking for Real Estate Graphic Designer near you ?