Why is it so important to implement SEO for your cleaning business in the first place?
As per a study, nearly 93% of online experiences begin with a search engine.
So getting more eyes on your website is extremely beneficial for your cleaning business, as almost all online experiences start with a search engine like Google, Bing, or Yahoo.
While the search takes place, around 75% of people don't visit the 2nd page, this means, that all they visit is on the 1st page of the google search result page, and only if your cleaning website is ranked on it, do you get chances of getting a lead.
That's where SEO comes into the picture. To make it simpler, we've listed below a few tips from our years of experience in improving your cleaning company's SEO :
7 Tips to improve SEO for Cleaning Business in 2023
1. Focusing on the foundation of SEO :
Nobody ever said SEO was easy, but it's actually quite methodical & process-oriented. You will need to combine multiple on-page, off-page & other factors to come up with an effective SEO strategy for your cleaning business. You need to prioritize tasks & eventually improve from basic SEO to advanced SEO.
When you build a website or outsource the website designing of your cleaning company to an agency, most of the developers find their job completed just with the development, whereas, integrating essential tools to fetch data for the future insights of the website gets ignored.
As SEO deals with data, your first priority after making your website live should be to make sure you integrate the tools to collect and analyze that data. The most important are:
a) Google Search Console
You will not be able to track a site's performance in Google search without this. It is also useful for keyword analysis, implementing and fixing technical SEO, and analyzing UX factors, for example.
b) Google Analytics.
Make sure that your Google Analytics account is properly connected to Google Search Console, then set up specific reports and goals to track your website's performance stats (e.g. traffic, top-performing pages, page views, bounce rate, CTR)
c) Yoast SEO for WordPress.
Since WordPress is one of the most popular Content Management Systems on the Web, chances are you will be using the Yoast SEO plugin. Intuitive and user-friendly, it helps with titles, meta descriptions, URLs, keywords, and content quality. More technical like sitemaps and robots.txt are also covered.
2. Speed up your website to improve SEO for Cleaning Website:
On the internet, people don't have patience, if someone clicks on your cleaning company's website & if it takes quite a few seconds to load, believe me, he's gone!
Slow Websites kill conversions!
Even a one-second delay in page load time yields:
11% fewer page views
16% decrease in customer satisfaction
7% loss in conversions
If your website takes more than three seconds to load, you lose almost half of your visitors before they even visit your website.
To improve your cleaning company's website speed, we recommend starting with Google PageSpeed Insights or GTmetrix. This is an easy-to-use tool that enables you to measure and test the speed of your web pages on both desktop and mobile devices.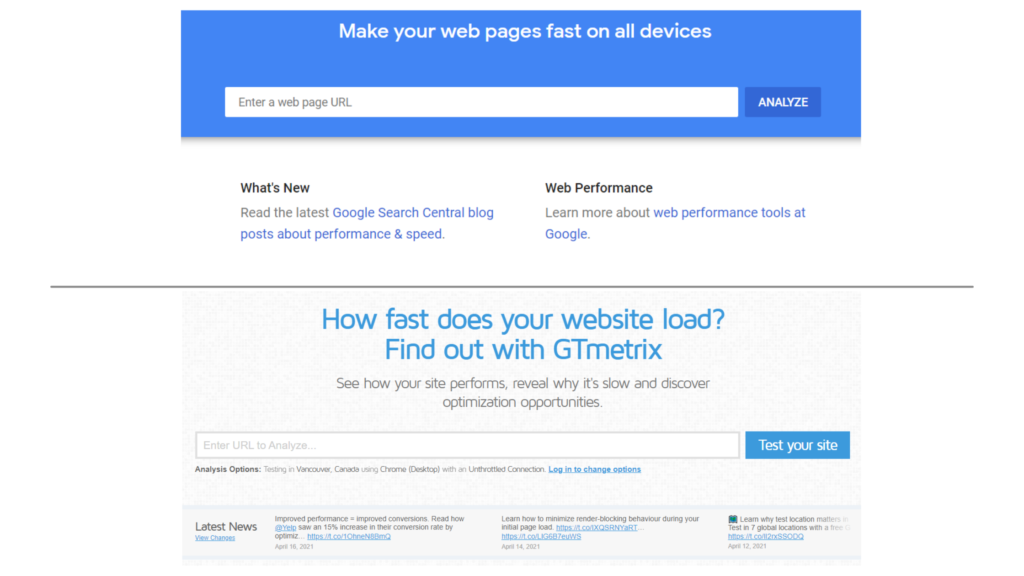 To use any of them, simply enter the URL of the web page you want to test into the text field, and select the Analyze button:
This information gives you a solid starting point for gauging how fast your web pages are and offers tangible actions you can take to improve page loading speeds.
Want To Speedup Your Website ? Contact Us
3. Actively Managing the Local Seo for Cleaning Business
One of the first steps to take if you want to rank your cleaning company in local searches is to set up a Google My Business (GMB) listing.
Once your cleaning company's GMB listing is verified, ensure you fill out the entire profile. Google supplies you with a visual that indicates how complete your profile is. Make sure you get this metric to 100% by filling in all the fields.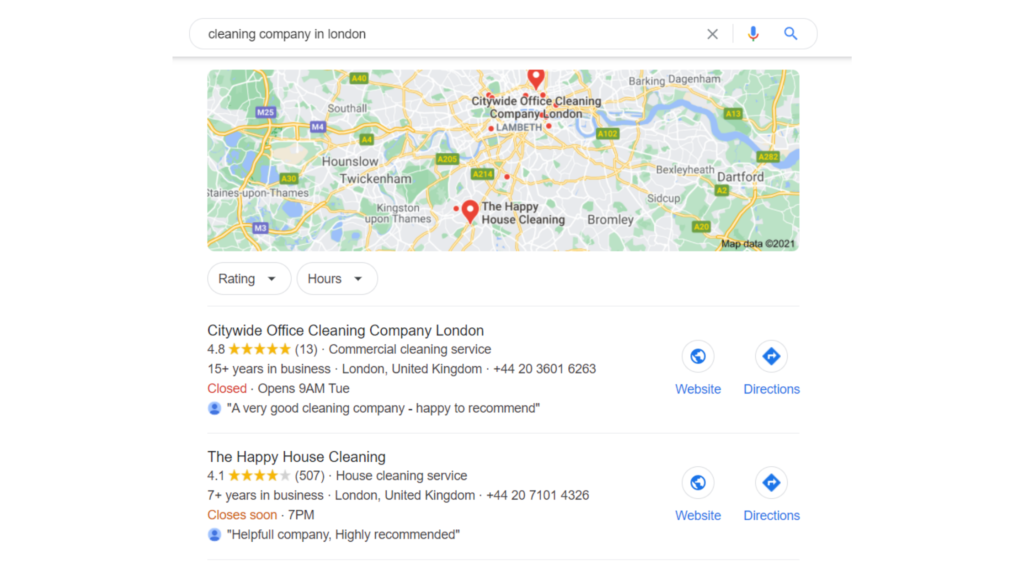 Make sure you list your products, services & category. Google will ask you to specify a main category from a preset list of options for example; Commercial cleaning.
Once this is done, you can also select a secondary category, for example; Carpet cleaning, Deep cleaning, Window cleaning, etc. something many businesses fail to do which gives more context to your services.
Leveraging these subcategories will also help you rank higher on Google Maps.
Once you have your listing up, another top local SEO tip is to use the Google Posts feature. Here you can create mini-posts for your clients and show Google that you are actively managing your listing.
Maintain GMB listing actively and Google will boost your listing whenever someone searches in the locality.
Want To Optimize Your Google Listing ? Contact Us
4. In-depth Keyword Research for Seo for Cleaning Business
Once you are done with integrating the required tools to fetch your site's data, figure out which keywords you need to target.
Start from scratch.
Think about the terms people might be searching for if they need any of your cleaning services.
For better results, you can use keyword research tools such as:
Google Search Console.
Ahrefs Keywords Explorer.
Google Keyword Planner.
KeywordTool.io.
Moz Keyword Explorer.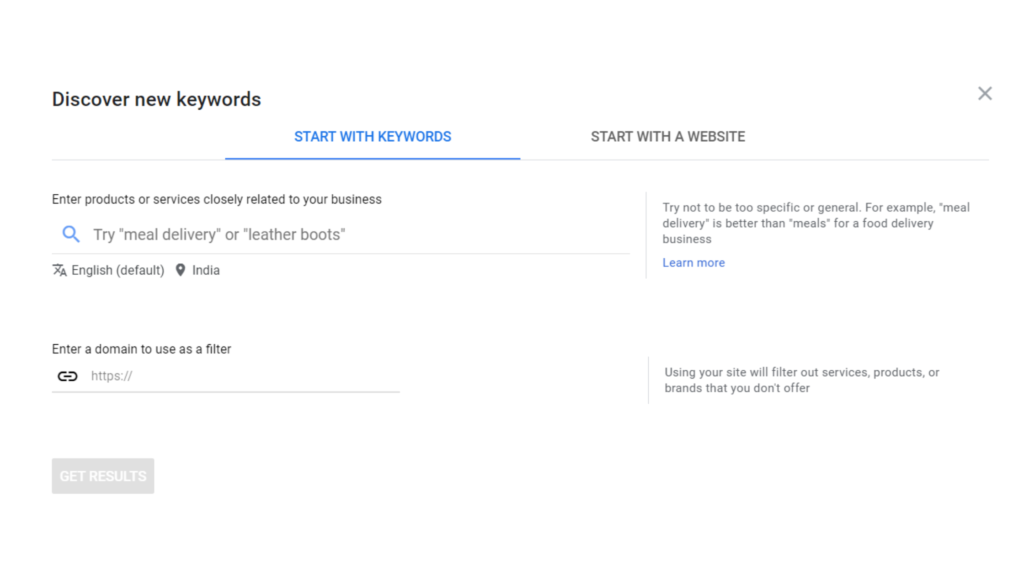 The 3 key areas to keep in mind while keyword research:
Never stuff keywords on a single page. Keyword stuffing will quickly put you on the wrong side of Google, so you should ensure that keywords are placed naturally. Google's crawlers must understand your content in a natural way.
Use long-tail keywords, they are longer and more specific keyword phrases that visitors are more likely to use when they're closer to a point of purchase or when they're using voice search. For example, people often search specific keywords like "Professional cleaning company in London" instead of just "cleaning company".
Another way to show to Google that you cater to your audience is to include multiple variations of keyword synonyms and LSI (Latent Semantic Indexing) phrases in your content. As a rule, these are low-competition keywords and you can rank for them pretty easily.
Need Help With Keyword Research ? Get Free Consultation
5. Working on the On-Page Seo for Cleaning Business
To improve your cleaning company's website rankings in search engines, you must provide clear signals that your pages are better than those of your competitors. In other words, you need to excel at on-page SEO.
Here are some key areas to focus on:
a) Meta tags and descriptions.
Titles, subtitles, alt tags, and meta descriptions are important on-page SEO factors.
Ensure that:
They all feature your targeted keyword
The title does not exceed 70 characters
h1, h2, and h3 tags are scannable (i.e. allow users to get a post's meaning without reading it)
The alt tag allows users to figure out the image's meaning if it is not displayed on the page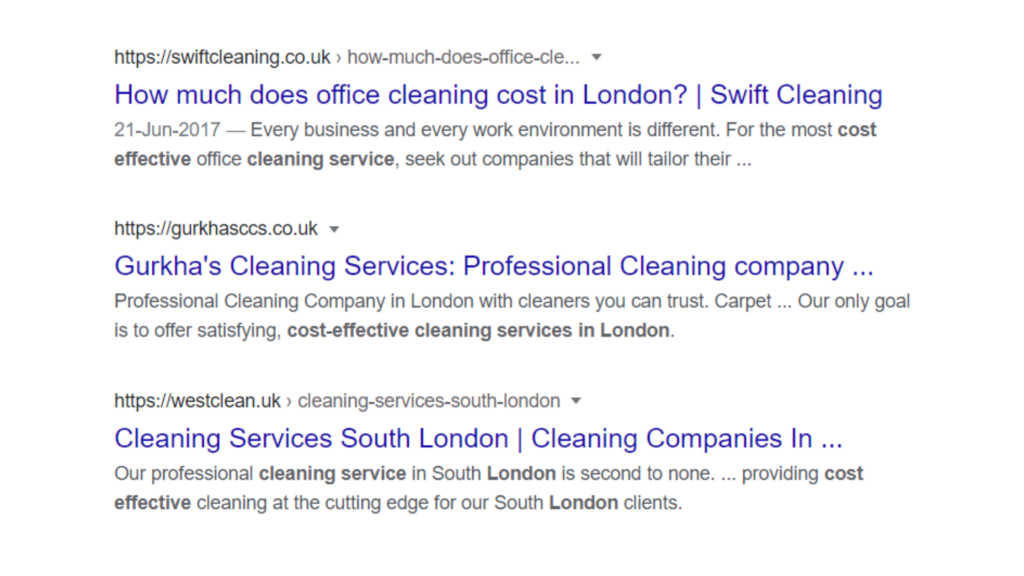 b) Internal links.
You should link your pages together to create crawling paths for Google bots and conversion funnels for your users. Place between two and five internal links per content piece.
c) Website structure, navigation, and UX factors.
According to the three-click rule, users should be able to find any information on a website within three mouse clicks. No matter how much sense this rule makes, it comes down to the fact that any website must be easy to navigate and use, and its structure simple and cohesive.
Drive More Traffic To Your Cleaning Business Website!
6. Use blogs to boost your Seo for Cleaning Business
Blogging can be an important aspect to boost the SEO of your cleaning website with prior keyword research around the topic. Blogs if implemented well, can exponentially improve your website's traffic.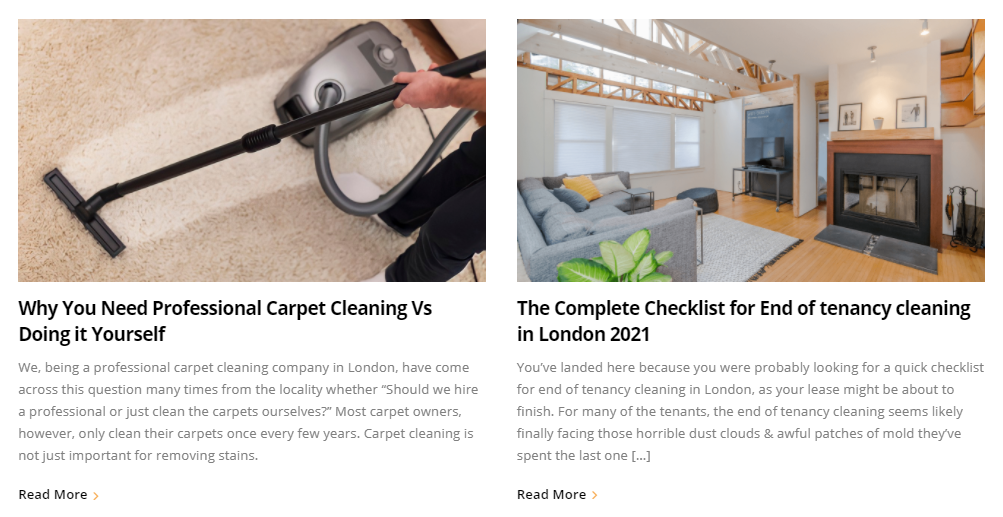 You can use blogs to provide solutions to the frequently asked questions by your cleaning clients.
If you are not clear about the topics, get into your ideal cleaning client's mind. What are their problems, concerns, and common questions? If you can answer those you will position your cleaning company as an expert in the industry and can attract your ideal customers to you.
Though blogging is a bit time-consuming task and that's not an easy task to implement in-house, that's why we've added it to our SEO services and have been ranking our clients for a few years with it.
7. Link Building Activities in Seo for Cleaning Business
If you haven't already done this, make sure your website is listed in local citations and directories.
Getting your business on Google My Business, Yelp, and local sites is extremely important in getting backlinks to your site.
Just make sure that your name, address, and phone number are consistent across the board to avoid confusion. Use a tool like MozLocal or Yext to get started in the right direction.

Second, It's a well-established SEO practice to go after the links that might be helping other cleaning competitors rank in search engine results pages.
Conduct a few searches on the keyword phrases and terms that are important to your business. Once you find a handful of competitors, use a tool, like Ahrefs, to get a list of sites linking back to your competition. Use this to see if you can figure out an angle to get a link of your own.
Link building does take time and effort, but if done correctly, the hours put into it will be well worth it.
It might take time in reflecting the results of SEO for your cleaning website for around 6 to 12 months or even more, depending on the competition.
But eventually, your cleaning website will get improved traffic and exposure with an effective SEO strategy for your cleaning website in 2023. 
Read Our SEO Case Study
Searching for a Trusted SEO company for cleaning business in 2023?