For an extended period of time, the worldwide market for fast-moving consumer goods (FMCG) has been developing at a breakneck speed. Despite the industry's good development prospects, its patterns are always changing in response to dynamic customer behavior.
Depending on changing customer wants and requests, FMCG firms must adjust to a fast change in strategic choices.
In the present environment of business intelligence in the FMCG industry, technologies such as machine learning and data science are gaining significant traction in the FMCG business and its operations, as firms seek to mitigate their exposure to constantly shifting consumer trends. FMCG analytics is reshaping how firms manage data – the emphasis is gradually moving away from 'product' and toward 'consumers'. 
How to leverage Business intelligence in the FMCG sector in 2022?
The Fast-Moving Consumer Goods (FMCG) market is very competitive, and staying ahead demands excellent business acumen. And one instrument that has made a significant contribution to this sector's advancement is business intelligence (BI). Here's a look at the function of business intelligence in FMCG secctor.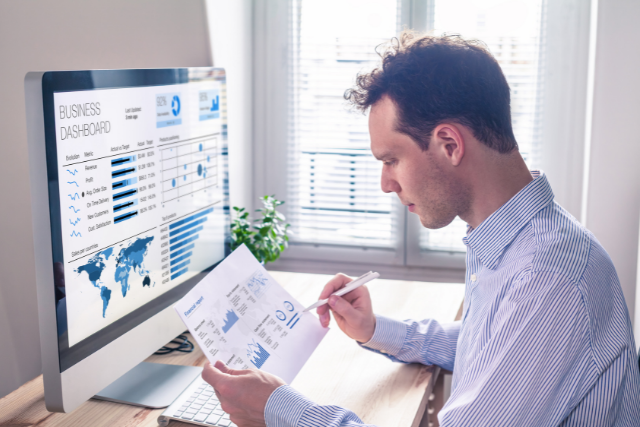 Business intelligence is a broad term that encompasses a variety of concepts.
Business Intelligence is a kind of software that offers an overview of a business's activities by analyzing historical data. After improved data, it is visually delivered to end-users through reports, graphs, or dashboards. Additionally, comparative data on other firms within the sector may be gathered to serve as a barometer of success.
Importance of Data Analytics in the FMCG Industry?
Every organization faces the difficulty of growing its top line in today's disruptive and competitive climate. The firm is attempting to develop its full line by employing data analytics in the fast-moving consumer goods (FMCG) market.
At the moment, FMCG companies have a chance to restructure their marketing and operations. By using data analytics approaches, FMCG firms may go beyond reactive functions and adopt proactive measures.
Numerous variables influence the FMCG sector, including marketing, inventory, seasonal variations, returns, out-of-stock, raw material availability, and localized pricing. The FMCG business may rely on data analytics to uncover consumer behavior patterns, gaps, and possibilities in these uncertain times.
6 Benefits of leveraging business intelligence in FMCG industry
When correctly integrated and deployed, business intelligence may have various beneficial effects on the FMCG sector. Here are a few examples:
1. Optimize FMCG distribution networks
Product delivery is a critical component of the FMCG supply chain network, and by integrating BI, your organization may use geo-analytics to consolidate and simplify distribution networks. This reduces delivery delays while increasing the accuracy of the service offered — items arrive on time.
2. Enhanced warehouse management
Warehouse management is another aspect of the FMCG industry's supply chain that may be enhanced with business intelligence. Business intelligence in FMCG enables real-time monitoring of various activities, including deliveries and inventory levels, facilitating performance tracking. This data may be utilized to enhance warehouse management in general.
3. Simplified supply chain procedures
The supply chain plays a vital role in the benefits of business intelligence for the FMCG industry, with stock availability being a significant deciding factor for industry players. To guarantee that your product is always available, business intelligence may be linked to optimizing the supply chain process from start to end by providing stakeholders with precise data analysis rather than relying on guessing.
4. Increased customer insight
Bigg data analysis provides company owners with insight into their consumers through product monitoring and real-time purchase behaviors. With this vital data, FMCG firms can tailor their marketing efforts and advertising.
5. Promotions targeting specific customers
Customer insights supplied by BI enable better-focused consumer promotions that speak directly to the customer's true desires. Individual purchase data allows your company to create a personalized campaign that promotes brand loyalty and appropriately enhances the consumer experience.
6. Develop things that customers want
With this data at your disposal, you can also alter and begin generating items that people genuinely desire, rather than attempting to sell them something that already exists or has been for some time. Big businesses have benefits of bi for FMCG and use essential knowledge to launch new product lines based on this data and address contemporary and developing demands.
Prominent business intelligence tools, like Power bi, tableau, and Qlik Sense, will demonstrate how big data analytics could assist the FMCG sector. Using such helpful tools may improve company choices and save overall expenses while also increasing the customer experience. 
Additionally, BI tools offer continuous business intelligence assistance to ensure that you continue to benefit from this excellent investment. It offers granular business intelligence solutions that enable organizations to monitor operational efficiency, manage budgets, and manage expenditures in real-time.
Conclusion
Thus, to retain a competitive advantage in a rapidly rising industry, it is becoming more vital for FMCG firms to seek proactive ways to use new and comprehensive data sources in novel ways. Business intelligence in FMCG firms in gaining a better knowledge of their consumer data and provide insights that may change them from industry laggards to market leaders.
Need Consultation?